LISA HAS GONE ON A WALKABOUT
What began as a sabbatical from teaching so that I could write my next book has turned into an extended "walkabout" in search of self, home, community, and rekindled love on the far side of parenthood. Read More
Last year, my husband and I sold the New Jersey house in which we raised our two children. We gave away most of our belongings, stored the rest, and, with only a hazy notion of what was next, set out to find a place to resettle—not just geographically; also psychologically, emotionally, and spiritually. Our journey has taken us by car from New York City to San Francisco—with "home stays" along the way in Santa Fe, Boulder, and Ashland—and by plane and by boat to New Zealand, Australia, and Bali. The search continues. . . .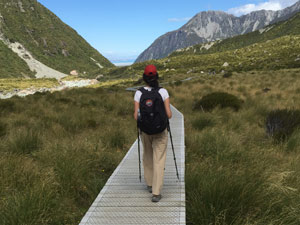 My itinerant lifestyle notwithstanding, and thanks to a recent writing residency at Hedgebrook, I have managed to finish the first draft of my memoir, Three Lovers and a Brother, set in the cooperative Quaker-turned-hippie community where I was raised. If my first book was born out of the universal yet personal drive to make sense of motherhood, then my second comes from the tug many of us feel in midlife to return to the place we came from—not so that we can preserve our history but so that we can liberate ourselves from our past. I have also taken the first faltering steps toward imagining a new book, inspired by our walkabout. As always, I attribute my progress on the page to my daily writing practice. The act of writing has kept me rooted during this time of uprootedness; my notebook has been my home during this period of homefreeness.
Until we resettle, I hope to offer pop-up writing classes and workshops in New York City and elsewhere, as well as destination retreats in the United States and overseas.
Stay tuned…and stay in touch! I would love to hear about your journeys.
Close